Section 179 Tax Deductions on Ford Vehicles
2018 Section 179 Tax Changes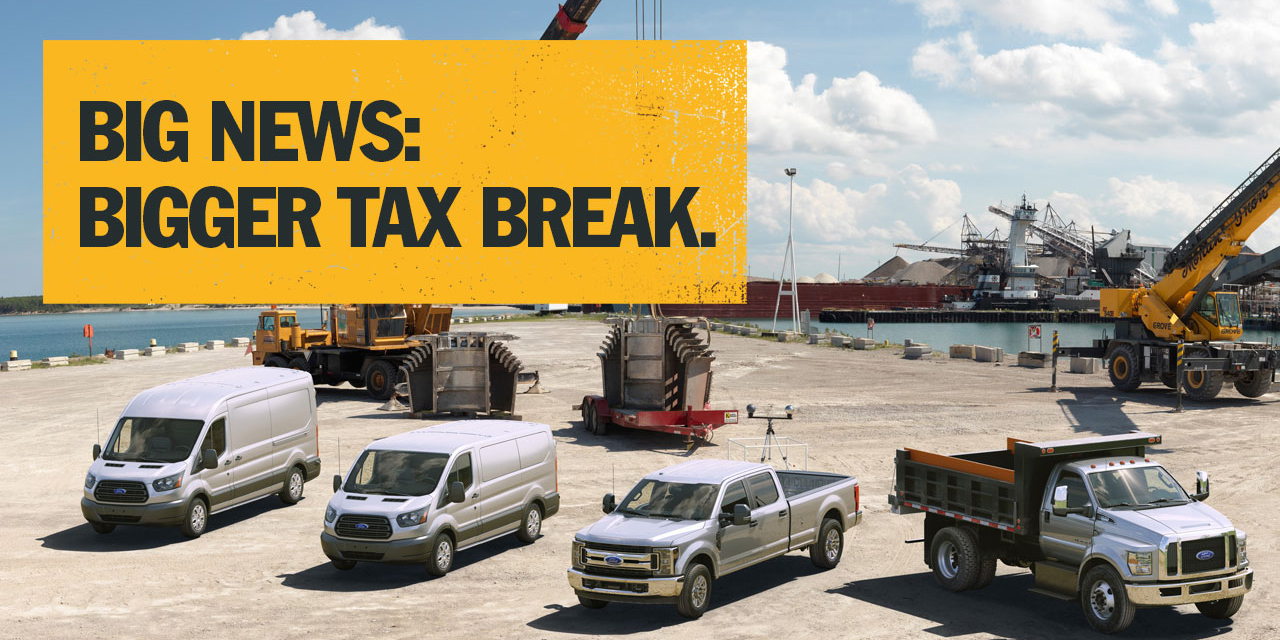 Purchasing New Ford Commercial Vehicles by December 31st Can Earn You Up to a $1 Million Tax Break!
Smart small businesses are making the most out of the new changes to IRS Section 179 in the tax code. You can write off up to $1Million worth of qualified purchases for the 2018 tax year.* Usually these types of purchases are spread across several tax years of deductions. But, because of the changes made last year, IRS Section 179 now allows many small businesses to write off the entire $1 million of equipment in the first year it's placed into service.
How Section 179 Can Help Your Small Business Deduct Vehicles
The Section 179 provisions may allow your small business to deduct the entire cost of a Super Duty or a Transit Cargo Van or up to $18,000 of a Transit Connect Cargo Van. Section 179 provides different deduction amounts based on the type of vehicle, usually based on its weight. See the IRS guidelines for the specific weights and deduction amounts.
Under the new Tax Cuts and Jobs Act of 2017, businesses can expense the cost of any qualified Section 179 purchase and deduct it in the year that equipment is placed into service. The changes to Section 179 also increased a business's maximum deduction from $500,000 to $1,000,000 and the total "phase-out threshold" from $2 million to $2.5 million.
The Tax Cuts and Jobs Act of 2017 also changes what "property" means, in terms of what a business can use these deductions for, to include improvements that you may make to non-residential real property. One example would be an office building expansion or renovation, an elevator or escalator is added, or the roof, HVAC, fire protection, alarm system, or security system are added or changed.
The new tax provisions also changes the bonus depreciation percentage from 50 percent to 100 percent. This change applies to the qualified property that is bought and placed into service after January 1, 2018 but before January 1, 2023. This change also applies to passenger vehicles that were placed into service after December 31, 2017.
One huge change for small businesses is that the Tax Cuts and Jobs Act of 2017 allows businesses to apply that bonus depreciation to used property, not only new, as long as they qualify. That means small businesses can also use their budget toward pre-owned vehicles

ANY CATCHES?
The qualifying vehicle must be purchased and placed into service by midnight December 31, 2018. It must be used at least 50% for business, based on mileage, in the first year it is placed in service. So if you choose to use it for both personal and business use, the deduction would match the percentage used for business.
Please note that the maximum IRS Section 179 Deduction of $1 MILLION allowable is reduced if the Company purchases and/or finances more than $2,500,000 in business equipment during tax year 2018.