2019 Ford Edge vs Honda CR-V
2019 Ford Edge vs Honda CR-V
Jump into the 2019 Ford Edge and Honda CR-V for all-star takes on what crossover comfort and performance should be. There's so much to like about each model, in fact, that you might find yourself struggling to choose just one. Our comparison guide is here to help.
Spread Out in Style: 2019 Ford Edge
As a mid-size crossover, the 2019 Ford Edge is undeniably roomier than the compact CR-V. The Edge is wider overall, so everybody has more hip and shoulder room, especially with three passengers sitting side-by-side in the backseat. That's not to say that the CR-V isn't spacious, just not as spacious as the Edge.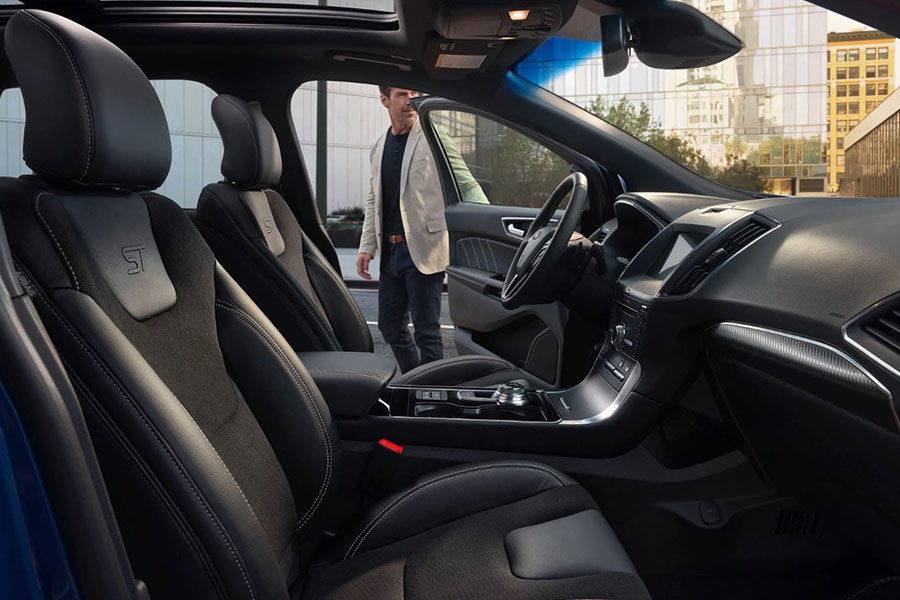 We also have to give the Edge serious props for long-term comfort. It's tough to strike a balance between comfy and supportive, but the Edge's seats definitely do. Ford's mid-size crossover also means silky smooth cruising, even when the pavement gets rough. The Honda CR-V glides around town too. And its seats are likable enough. However, the CR-V cabin absorbs more road noise.
Stay Connected: 2019 Ford Edge
To drive around with the best version of the usual infotainment gadgets, stick with Ford's mid-size crossover. Ford's SYNC 3 infotainment system features an 8-inch color touchscreen and, importantly, this system is responsive and easy to use. (Which you'd think would be common for vehicle infotainment systems, but not so much.) SYNC 3 is also pre-loaded with Apple CarPlay and Android Auto, features that offer access to your smartphone both on the touchscreen and via voice control. This technology is a big deal, keeping drivers-especially young, newbie drivers-from glancing down at their phones. Now there's no need.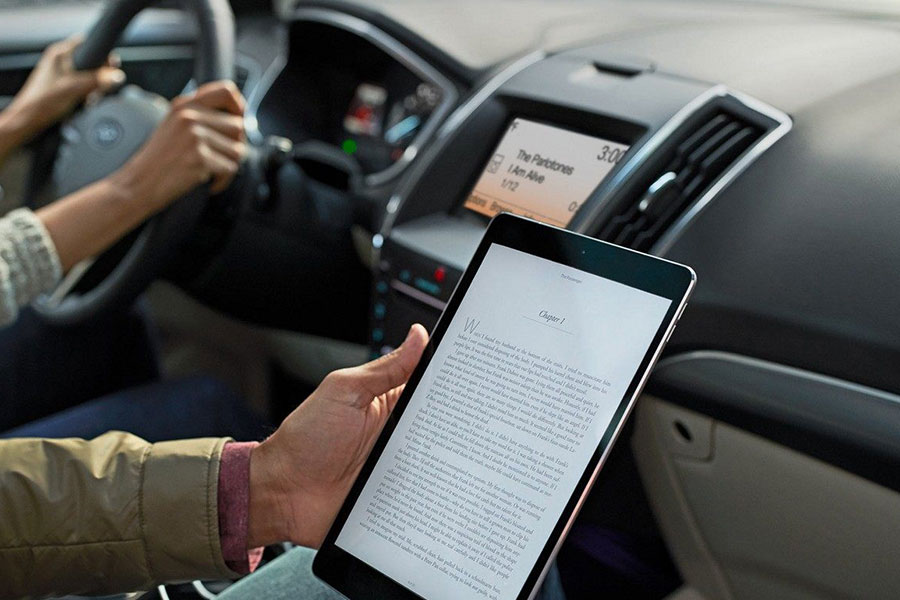 Back on our friend the CR-V, Honda's infotainment system features a smaller, 7-inch touchscreen, also including Apple CarPlay and Android Auto, so you can see your maps and music apps right on the central touchscreen. Honda's own infotainment technology, however, is not as user-friendly as what Ford has to offer. Besides a facing a steeper learning curve with its menu structure, you might find yourself frustrated with the touchscreen's lagging responses to your input.
Enjoy the Sportiest Ride: 2019 Ford Edge
The 2019 Ford Edge is far more powerful than the Honda CR-V, no matter which engine you select. This year's base engine is the turbocharged 2.0-liter four-cylinder, and that means no one has to pay extra for 250 horsepower and 280 pound-feet of torque. If you're looking for an extra-sprightly ride, check out the new Edge ST, whose exclusive twin-turbo 2.7-liter V6 churns out 335 horses and 380 pound-feet of torque for some serious speed.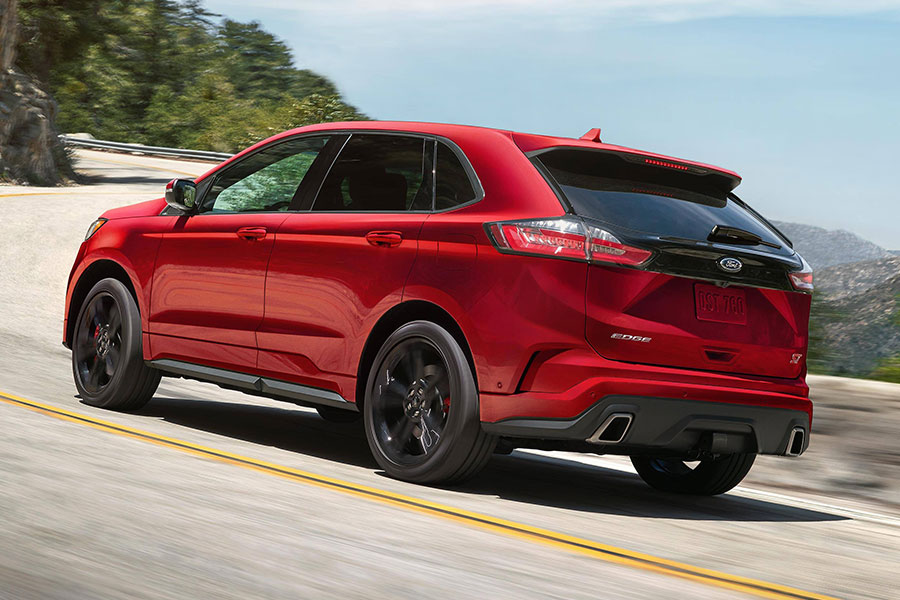 Neither Honda CR-V engine even comes close. The base four-cylinder gives you 184 horses and 180 pound-feet of torque. Upgrade to the turbocharged four-cylinder engine, and you get 190 horses and 179 pound-feet of torque. Both options get the CR-V going in a timely fashion. They're just not the kind of speed demons available from the Edge.
If you need to maximize traction-say, for a long, icy winter or weekend forays into off-road territory-there's good news. You can add all-wheel drive to either crossover. When you pair one of the Edge's sporty engines with all-wheel drive, the combo feels especially athletic away from the pavement.
Save the Most on Fuel: Honda CR-V
When you don't have any wiggle room in your fuel budget, the CR-V comes through. This punchy little crossover earns up to 28 city/34 highway mpg, so you can manage a long commute with optimum fuel economy.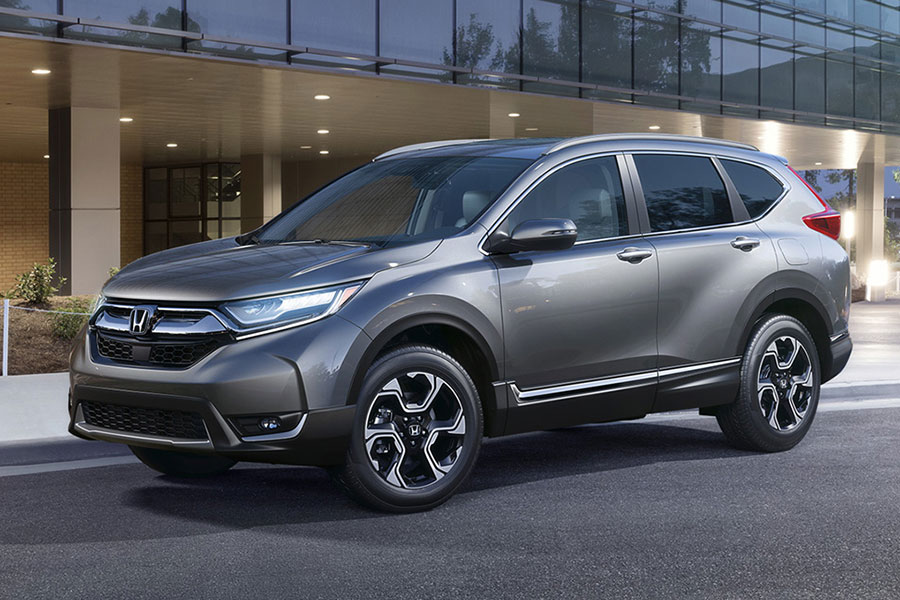 The 2019 Ford Edge is something of a different breed. Instead of putting all of its eggs in the fuel economy basket, this crossover aims for that just-right balance of power and fuel economy. Besides delivering athleticism, on-road and off, the Edge also earns up to 22/29 mpg.
There's a lot to like about both of these crossovers; anyone would have a tough time choosing between them. That said, though, the 2019 Ford Edge definitely takes home the Best in Show title in this particular competition. In this segment, there's just no crossover more luxurious. Add in its sporty capabilities, and you've got a ride that leaves the competition in the dust.